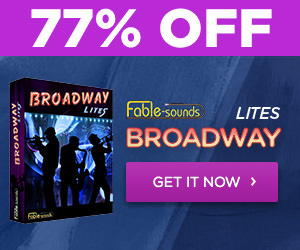 "Broadway Lites" features 15GB of multi-sample content, with over 20,000 unique samples of saxophones, trumpets, trombone and clarinet.
This is an affordable introduction to the best-sounding and most realistic emulation of contemporary brass and wind instruments to date!
15GB of Brass & Wind Instruments for Kontakt Player
"Broadway Lites" provides an affordable introduction to the best-sounding and most realistic emulation of contemporary wind instruments to date with 15GB of incredible quality brass and wind instruments. As well as being suitable for high-end studio work, its also great for live shows of any scale.
The patented Broadway Performer™ technology enables comprehensive and intuitive access to the thousands of samples included in the "Broadway Lites" virtual instruments, and provides instant access to a virtually limitless variety of articulations and playing techniques.
Perfect for Contemporary Jazz, Big Band, Blues, Pop, and RnB
"Broadway Lites" follows in the tradition of it's big brother "Broadway Big Band" by accurately portraying contemporary jazz, blues, pop, and r'n'b woodwind, brass, and rhythm instrument's playing techniques in a playable virtual instrument plug-in and it also incorporates the same integrated advanced articulation scripting.
The full compliment of instruments included is as follows:
Bb Clarinet
Soprano Saxophone
Alto Saxophone
Tenor Saxophone
Baritone Saxophone
Bb Trumpet
Bb Trumpet with Harmon Mute
Tenor Trombone
Each instrument in Broadway Lites is presented with one microphone setup, carefully selected from the multiple microphone setups included in Broadway Big Band. For the tenor trombone, tenor saxophone and alto saxophone this is the Mic-3 setup (Loose mic) and for the trumpets, clarinet and other saxophones the Mic-1 setup (Close mic) is used. These are the most commonly used mic positions and they sound incredible when combined together!
To further aid performance Broadway Lites also offers MIDI data morphing for mod-wheel driven crescendos anddiminuendos, alternate samples handling (round-robin), including an individual cycle for each note in each dynamic level of each articulation, resulting in hundreds of individual cycles per instrument, providing the most authentic performance ever offered by a multi-sample library or a virtual instrument!
The Best New York Musicians Recorded In The Top Studios
15 GB of multi-sample audio content at 24 bit / 44.1 Khz.
Over 20,000 unique samples.
Real note-transition samples, including legatos, glissandos, etc.
Real-time access to the entire scope of the articulations of each instrument.
Midi data morphing for mod-wheel driven crescendos and diminuendos.
Create and recall snapshots of alternate cycles to lock performance and gain ultimate control.
Dump & reload articulations of instruments right from the player´s interface, to optimize memory usage.
Features Top New York musicians and recording studios!