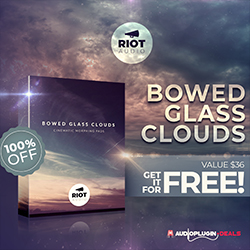 Deal Price: FREE (instead of $36)
Bowed Glass Clouds is a cinematic virtual instrument running in NI's Kontakt. Its morphing pad engine creates rich, organic evolving textures with sounds sourced from bowed glass bowls and jars. BOWED GLASS CLOUDS focuses strictly on creating thick atmospheres using natural sound sources, such as bowed glass bowls and jars.
On top of capturing the unique, resonant qualities of these objects, this library features a dual layered engine, which allows you to shape the sound of each layer individually as well as global effects such as distortion (for added tension), delay (for extra trippy sounds), and reverb (for huge, spaced out sounds).
Features:
12 patches: Atmospheric Whiteout, Frozen Air, Ground and Ionosphere, Harvest Sunset, Horizon, Jetstream Organ, Lone Whisp, Nebulae, Solo Puff, Stratosphere, Sudden Squall, Warm Haze
Samples include bowed large bowl, bowed small jar, bowed medium bowl, Ebow resonator guitar, household hoover
12 layers of sound in total: A/B layers with two sublayers each and a 3 octave spread
Lexicon Reverb Modelling
Based on Riot Audio's proprietary CLOUDS engine using Kontakt's AET Filter morphing capabilities
Requires Kontakt version 5.8 or higher (full version).
Buy Now: https://audioplugin.deals/glass-bowed-clouds-by-riot-audio-free-download/ref/33/