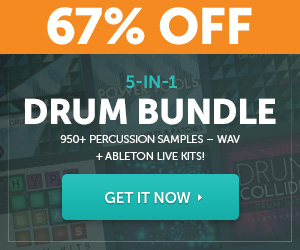 Deal Price: $22 (reg $66)
950+ Percussion Samples – WAV + Ableton Live Kits!
From thumping, cavernous kicks to intricate, wooden rims, huge, snappy snares and soft, subtle claps and beyond, ModeAudio's passion for crafting the ultimate drum sound shines through every one of their collections.
On top of the hordes of fresh, inspiring drum and cymbal samples, this particular "Drum Bundle" also includes 60+ drum racks for Ableton that are hand-selected, pre-mixed, panned and processed for instant use in your music.
So go ahead, load up the samples and then duck for cover… things are about to get loud!
Perfect for Ambient, Electronic, Hip Hop and Pop Music!
"Drum Bundle" comes with the following packs in both WAV and Ableton Live formats:
Power Tools – Drum Samples & Patches – This collection of 330 thunderously weighty drum sounds has been sculpted and engineered with studious precision and craft – put simply, the snares slam, the kick crush, the hi hats sizzle, the claps slice and the percussion just pops right out of the speaker cones!
Machine Attacks – Drum Hits – Using ModeAudio's professional signal chain built up over years of practice, they've tweaked transients, sculpted lows, adjusted amplitude envelopes, pushed the saturation and fine-tuned compression to create a library of 238 flexible drum machine samples that will work and sound right straight out of the box!
Hyper Beats – Drum Hits – There's no slamming on the breaks with this one – 160 drum hits of pure, sizzling percussive energy are hurtling towards your music, so prepare for the colossal impact and take cover!
Critical Mass – Drum Hits – Big beats are back on the menu! Give your music some serious bite with this Drum Hits pack, designed for instant gratification and maximum efficiency!
Drum Collider – Drum Hits – Organised into 10 kits complete with sampler presets, this set of Drum Samples promises to be your key to a brave new world of club and after-party music. Perfect for everything from driving Techno to lush R&B, use these sounds to cook up hits in minutes!
Toss 12 channel strips into the mix offering you a handful of pro, ready-to-go drum processing options and you've got yourself more than a bargain on your hands… this collection has what it takes to revitalize your drum sound!
Key features of "Drum Bundle"
953 WAV samples
12 Channel Strips (Drum Processing)
201 Kick Samples & 80 Tuned Kick Samples
173 Snare Samples
65 Clap Samples
175 Hi Hat Samples (Open & Closed)
214 Percussion Samples (Toms, Rims, Shakers, Triangles)
45 SFX Samples
40 MIDI Loops (Ableton Live)
62 Drum Racks (Ableton Live)*
12 Impulse Kits (Ableton Live)
16 Audio Effect Racks (Ableton Live)*
1 Live Project (Ableton Live)
Deal Price: $22 (reg $66)