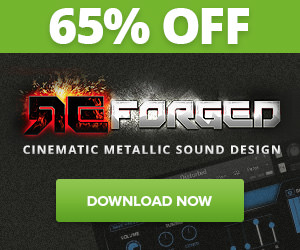 ReForged: Cinematic Metallic Sound Design features an array of found metal objects performed as if they were percussive instruments: an old cooker, metal shovels, rakes, a tin bath, gas canisters, and much more. These unique objects were hammered, struck, tapped, and resonated using a wide variety of both conventional andnot-so-conventional techniques. From this pool of beautifully-captured natural recordings a new collection of designed material was crafted – cinematic impacts,sweeps, noises, rhythmic loops, glitches, sub strikes, tonal atmospheres, dark textures, and beyond.
The ReForged interface contains a plethora of controllable parameters, effects units, and a simple but powerful step sequencer. With all of these tools at your disposal in a sleekone page layout, you'll quickly become lost in shaping sounds with as much detail and control as you desire. For those on a deadline, without time for fine tuning, the "out-of-box" sound of ReForged is just as heavy hitting and full of life.
To tie the natural and designed worlds of ReForged together, the library is presented as both a complete WAV collection (nearly 2,000 sounds) and a set of Kontakt patches with a sleek, modern sound engine. From subtle tweaks to dramatic alterations, the interface of ReForged: Cinematic Metallic Sound Design will provide you with endless variation and inspiration for your compositions.
Key features:
Over 1,900+ natural and design sounds.
Dozens of deep-sampled found metal objects.
Hundreds of cinematic impacts and hits.
Textures, atmospheres, FX and noises.
Tonal elements, transitions, and synths.
Inspiring & sleek UI w/ synth engine.
Extensive loop + rhythm collection.
Custom FX rack with internal presets.
Flexible sequencer / gate for rhythmic pulses
An inspiring & sleek UI w/ synth engine
Includes both standalone WAV and REX2 files and Kontakt patches!