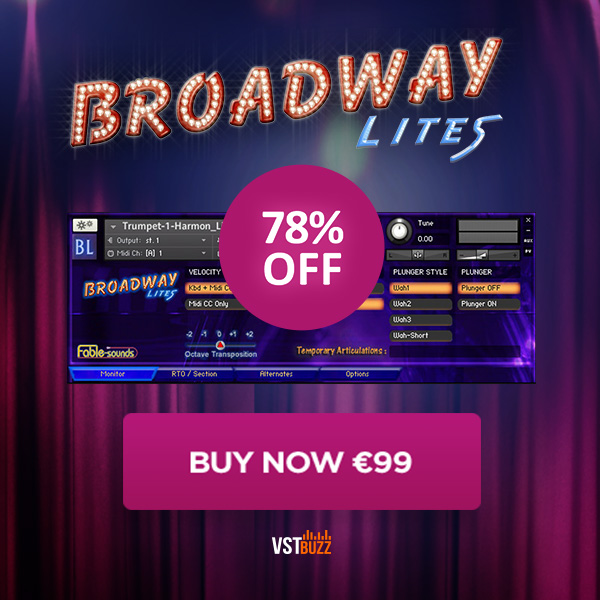 Deal Price: €99 (instead of €446)
"Broadway Lites 2.0" features 15GB of multi-sample content, with over 20,000 unique samples of saxophones, trumpets, trombone and clarinet based on the legendary "Broadway Big Band" library.
This is an affordable introduction to the best-sounding and most realistic emulation of contemporary brass and wind instruments to date and is perfect for Pop, Funk, Jazz, Big Band, R&B, Reggae, Latin Music and more!
"Broadway Lites 2.0" follows in the tradition of its big brother "Broadway Big Band" by accurately portraying contemporary Jazz, Blues, Pop, and R&B woodwind, brass, and rhythm instruments playing techniques in a playable virtual instrument plug-in and it also incorporates the same integrated advanced articulation scripting.
The full compliment of instruments included is as follows:
Bb Clarinet
Soprano Saxophone
Alto Saxophone
Tenor Saxophone
Baritone Saxophone
Bb Trumpet
Bb Trumpet with Harmon Mute
Tenor Trombone
Each instrument in 'Broadway Lites' is presented with one microphone setup, carefully selected from the multiple microphone setups included in Broadway Big Band.
Broadway Lites is compatible with the free Kontakt Player so you don't need the full version of Kontakt.